Home Automation
Your Home. Your Control.
Think of the things you do to get ready in the morning: turn on theu00a0lights, check the weather and traffic reports, maybe even turn on theu00a0morning news. Home automation delivers your world at a glance with a personalizedu00a0dashboard for your home. Customize your screen with the thingsu00a0you use most such as weather forecasts, camera video, lighting,u00a0even security system features. With home automationu00a0itu2019s all about you.
HOME AUTOMATION ALLOWS CONTROL OF:
VIDEO
What if you could press a button to access your entire collection of music and movies u2013 from anywhere in your home? home automation catalogs your media and displays them with brilliant cover art right on your TV, touchscreen or mobile device, making it easier than ever to find your favorites. If youu2019re really into music, youu2019ll love finding new favorites with Pandorau00ae, Rhapsodyu00ae and other streaming services.
SECURITY
Does your current security system ramp up the lights when the alarm sounds? Does it flash the exterior lights to alert the neighbors? Home automation adds this intelligence to better protect your investment and your family. Plus, it can send email alerts to your smart phone and allows you to remotely arm or disarm the system.
LIGHTING
If part of your bedtime ritual involves going from room to room
checking the lights, there is a better way. With home automation a simple touch can quickly turn them all off, or set the perfect party mood for the entire home. Save energy by dimming lights, managing shades and creating custom schedules for landscape lighting. Plus remote access features
will ensure you always arrive to a well-lighted home.
MEDIA/PHOTOS
In this new digital world, too often photos stay trapped in a PC or camera. Unlock those memories by turning every touchscreen and TV into a digital picture frame. Nothing gets the family together for u201cmovie nightu201d like a larger-than-life slideshow of your last vacation on the big screen
IRRIGATION
The dials and switches used by many irrigation systems can be
confusing and difficult to use. home automation takes the guesswork out of watering your lawn and puts you in control with a simple, easy-toread display. Conserve water by setting up personalized schedules, or give landscapers limited remote access to monitor the system and make adjustments.
MESSAGING
While home automation canu2019t drive your children to ball games, it is your digital personal assistant allowing you to check your email and leave recorded messages for others. Each family member can easily create a custom greeting for their voice mail and be sent alerts or e-mails when new items arrive. And you can play messages directly from the touchscreen or remotely using a PC or phone.
CLIMATE
Studies have shown that lowering a thermostat just three degrees can save up to 10% on your energy bill. With home automation not only can you automate these adjustments, but you also gain access to detailed history views that allow you to monitor the system and make informed decisions about consumption. And if you own a vacation home, youu2019ll love the remote access that gives you control while away.
POOL/SPA
Wouldn't it be cool if you could turn on the spa from the bedroom as you don your swimsuit? Conserve energy with scheduling of pumps, water features and lighting, and controlling automated covers. Also monitor pool health, receive customized alerts and even control the system from your cell phone. Time may not float on by, but with home automation you can.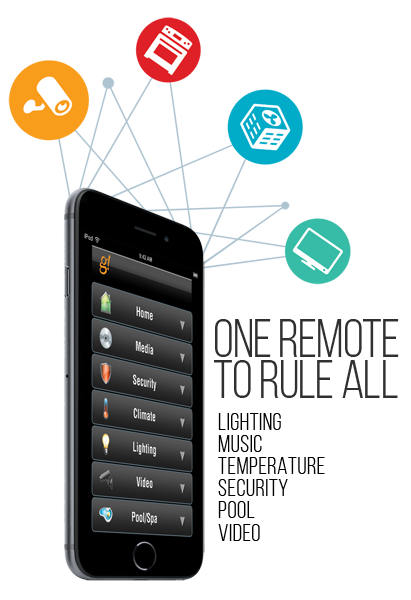 ONE REMOTE CAN CONTROL THE ENTIRE HOME SYSTEM