Managed Cyber Security Services
Overview
58% of cyber-attack victims are small businesses with 250 or fewer employees! As hackers become increasingly advanced and their attack methods evolve, no one tool can provide complete cyber security protection. That's why we offer a full suite of services that offers protection from many angles. We have worked extensively to vet the best cybersecurity products on the market and have carefully selected our offerings to be both relevant to today's cyber security landscape as well as "best of breed" in each product class. We feel using a layered approach to Cyber Security with these "Best of Breed" products is the ultimate key to success in preventing you from becoming the next victim of Cyber Criminals.
Although cyber security is complex, we can help eliminate the complication of security strategy for your organization. Contact Us to schedule a free Cyber Security Consultation so we can help you identify the biggest threats to your business and assist in determining what levels of protection make sense for your business.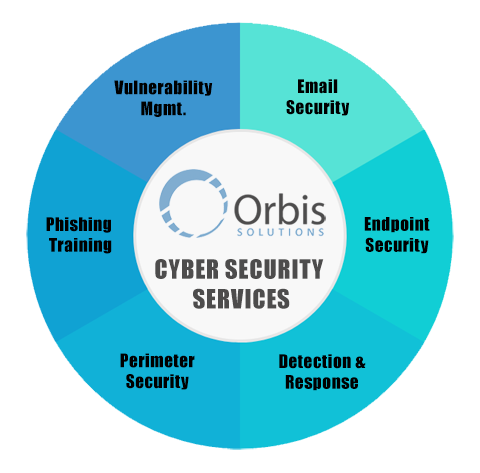 EMAIL SECURITY
Malicious emails are the #1 entry point for cyber attacks. Instead of stopping breaches, prevent them with a robust email security platform. Our platform detects malicious and unwanted content to keep it out of inboxes, featuring Anti-Spam, Anti-Virus, Sandboxing, Encryption, and Data Loss Prevention. LEARN MORE>>
ENDPOINT SECURITY
The connection of laptops, tablets, mobile phones, and wireless devices (also known as "endpoints") to corporate networks creates attack paths for security threats. Endpoint security protects your corporate network by ensuring that these devices follow a definite level of compliance to standards.
If any of your endpoints are ever lost, stolen, damaged, accessed by unauthorized personnel, or compromised by malware, you need a course of action to protect your sensitive data as well as to comply with data privacy regulations that may affect your business such as HIPAA, GLBA, and PCI.
LEARN MORE>>
MANAGED DETECTION & RESPONSE
While Antivirus and Anti-Malware solutions actively prevent the majority of attacks, hackers evolve quickly and are utilizing new and alternative techniques to gain access to your network. Since no solution will provide 100% prevention of cyber attacks, it's important to have Managed Detection & Response at work. Our managed security service offerings include EDR and SIEM.
LEARN MORE>>
PERIMETER SECURITY
Only a few years ago, many organizations got away with a "set-it-and-forget-it" approach to Perimeter Security. However, to be truly effective against today's sophisticated attacks, next generation firewalls should be configured, maintained, and proactively monitored to identify & shut down potential threats.LEARN MORE>>
PHISHING & SECURITY AWARENESS
93% of malware is delivered via email, which makes end users the biggest risk to your network! All it takes is one bad email with an attachment or link to a malicious download for a single user to put your entire network at risk. As hackers become more sophisticated, it's important to provide employee training for identifying cyber security threats. Phishing emails are always evolving and they come in various formats such as outstanding invoices, Linkedin notifications, or an internal IT Department asking users to change their password. We'll train your employees to spot the signs of phishing emails. LEARN MORE>> 
VULNERABILITY MANAGEMENT
Vulnerability management is a process involving identification, reporting, and prioritizing risks. With our service, you will be able to see the threats you face both inside and outside of your network. Move beyond traditional vulnerability scanning to vulnerability management. LEARN MORE>>